On January 5, Colorado State Sen. Don Coram (R-Montrose) announced he would mount a primary challenge to incumbent U.S. Rep. Lauren Boebert (R-Silt). A deal-making Republican with a bipartisan temperament, he has garnered respect from numerous Democrats, Republicans, and independents clued into Colorado politics. Considering Boebert's polarizing status inside and outside of the Centennial state, many are wondering whether she can be defeated.
In short – it is unlikely that she loses to a Democrat, given the 3rd's red lean. We at Split Ticket have the race rated as Likely Republican, due to a stubborn but intractable partisan edge (GOP candidates for president have consistently managed to secure 52 percent of the vote) that decreasing ticket-splitting will be unable to overcome. It is likelier that Boebert loses to another Republican in the primary election.
Complicating the cause of the anti-Boebert faction is a potential split in the vote. Coram is not the only GOP challenger – Durangeño crane operator Marina Zimmerman is running as a "blue-collar conservative". Zimmerman has been in the race for far longer and is a more established presence on the campaign trail, though Coram's name recognition as an elected official may give her some pause. Given Boebert's popularity with the GOP activists in the area, anti-Boebert Republicans need every vote consolidated behind one single candidate.
One proxy for this race is the 2020 primary, in which Boebert herself defeated an incumbent Rep. Scott Tipton (R-Cortez), who was asleep at the wheel and mounted lackluster campaign operations.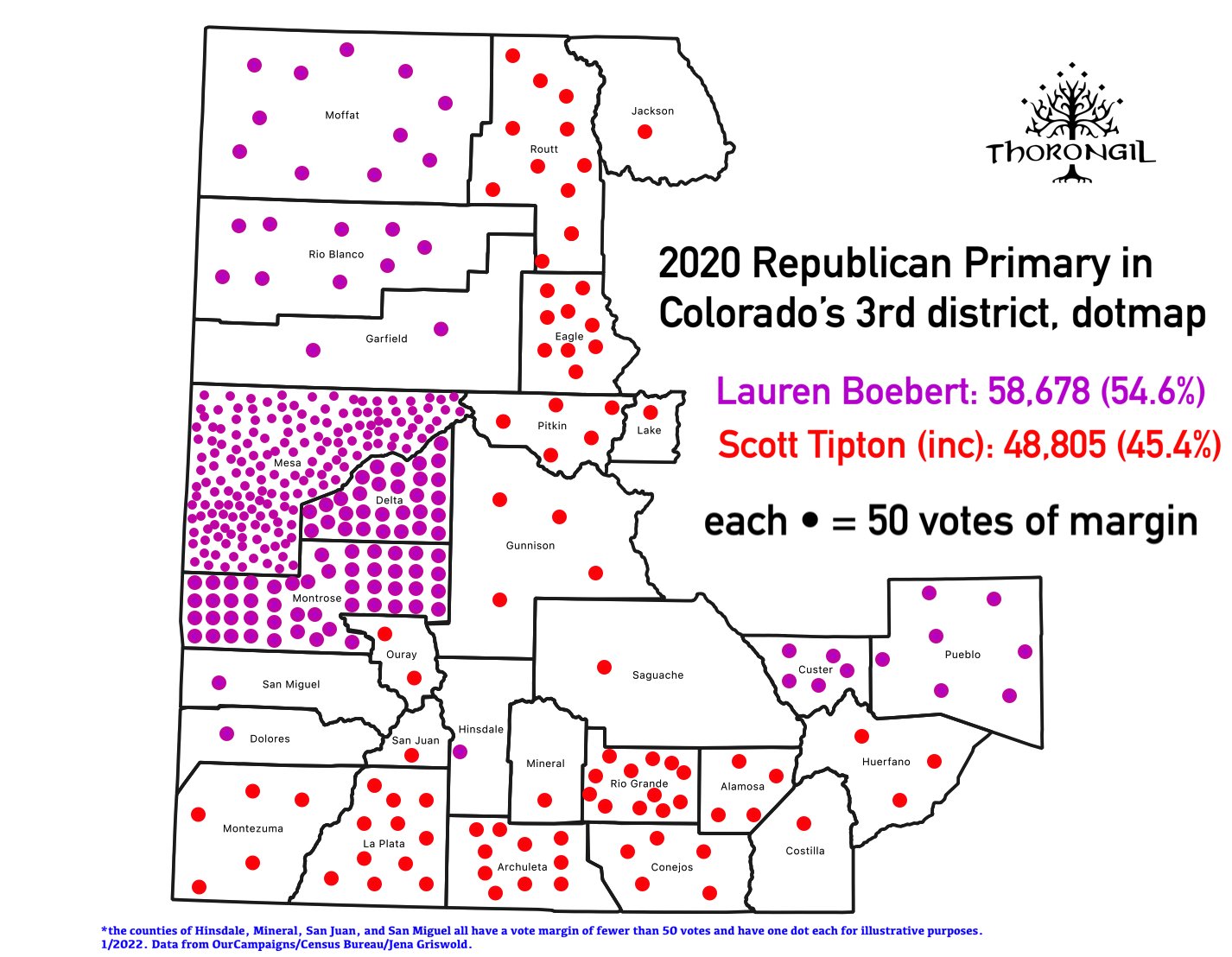 Looking at the above map – one can see where the real power is in District 3's GOP primary electorate: the power triad of Mesa County (Grand Junction/lower I-70 corridor), Delta (Delta/North Fork Valley), and Montrose (Uncompaghre Valley). With each dot representing 50 votes – one sees that Boebert won these areas handily.
It is these areas that won Boebert the general election, and Tipton before her in cycles past. Boebert won Mesa County by 25,000 votes or so, while she won the entire district by 26,000. Her far-right brand of politics, while embarrassing for some, is popular with GOP activist voters. One of her close allies, Mesa County Clerk Tina Peters, is under investigation for using her official capacity to investigate right-wing election conspiracies. The mounting pressure from federal and state officials has only emboldened the cause. The local GOP voters in Delta and Montrose Counties are very similar in temperament – these counties are rock-solid GOP and have not backed Democrats in decades.
Where does Coram fit into all of this? Well fortunately for him, his state senate district covers Montrose County, where he is from, as well as key smaller population centers such as Durango (La Plata County), Cortez (Montezuma County), and Pagosa Springs (Archuleta County). It is not the largest GOP base that a challenger to an incumbent could hope for – but it certainly is something to work with. He outperformed Walker Stapleton, the GOP candidate for governor, by 4 points in his 2018 run – a sign that he does appeal to moderates and independents in the area.
Coram's bid will be as much a battle of style as it is ideology. Boebert was first elected to Congress on account of her aggressively far-right views, successfully convincing the voters that Tipton was insufficiently conservative. In Washington, Boebert has eschewed compromise, seeing no vice in her extreme defense of her views. Coram, by contrast, is very much an old-school GOP pol who is comfortable with Democrats and garners much more respect outside of the hardcore conservative base.
In Boebert's favor is her incumbency plus her extremely high profile. She is arguably the most famous representative that the Western Slope has ever had, and represents a seat with politically active, highly conservative voters that provide a solid floor. Against her is the fact that there is internal resistance to Boebert's brand of Republicanism. The 3rd is a red-leaning seat, and noncontroversial conservative Republicans who make policymaking and pork their number one priorities are re-elected without incident (Scott McInnis, Scott Tipton), sometimes by landslide margins. Coram represents this heritage of Republicanism much better than someone like Boebert, and could argue that his experience delivering for constituents could better serve District 3 than Boebert's focus on culture war issues.
This dynamic has played out in Grand Junction before – the largest conservative bastion in District 3. In 2021, numerous far-right Republican candidates for municipal elections were defeated by an alliance of Democrats and mainstream Republicans. In addition, Joe Biden's performance in Mesa County exceeds all those of Democrats this century. He improved on Hillary Clinton and even Barack Obama's margins considerably. Perhaps there is indeed a market for a more tempered brand of conservatism. Looking to a historical election for another analogue, in 2004, Democrat Bernie Buescher won a Grand Junction-area State House seat in an upset. The Republican, Shari Bjorklund, was a further-right candidate that upset the prior incumbent in a primary – which angered Grand Junction's business community. They banded together and endorsed Buescher which ultimately delivered the seat. He would only go on to hold it until 2008 (it was and is still extremely red-leaning overall), but these examples show that there is precedent for a more moderate challenger to assemble a bipartisan pan-ideological coalition to defeat further-right candidates.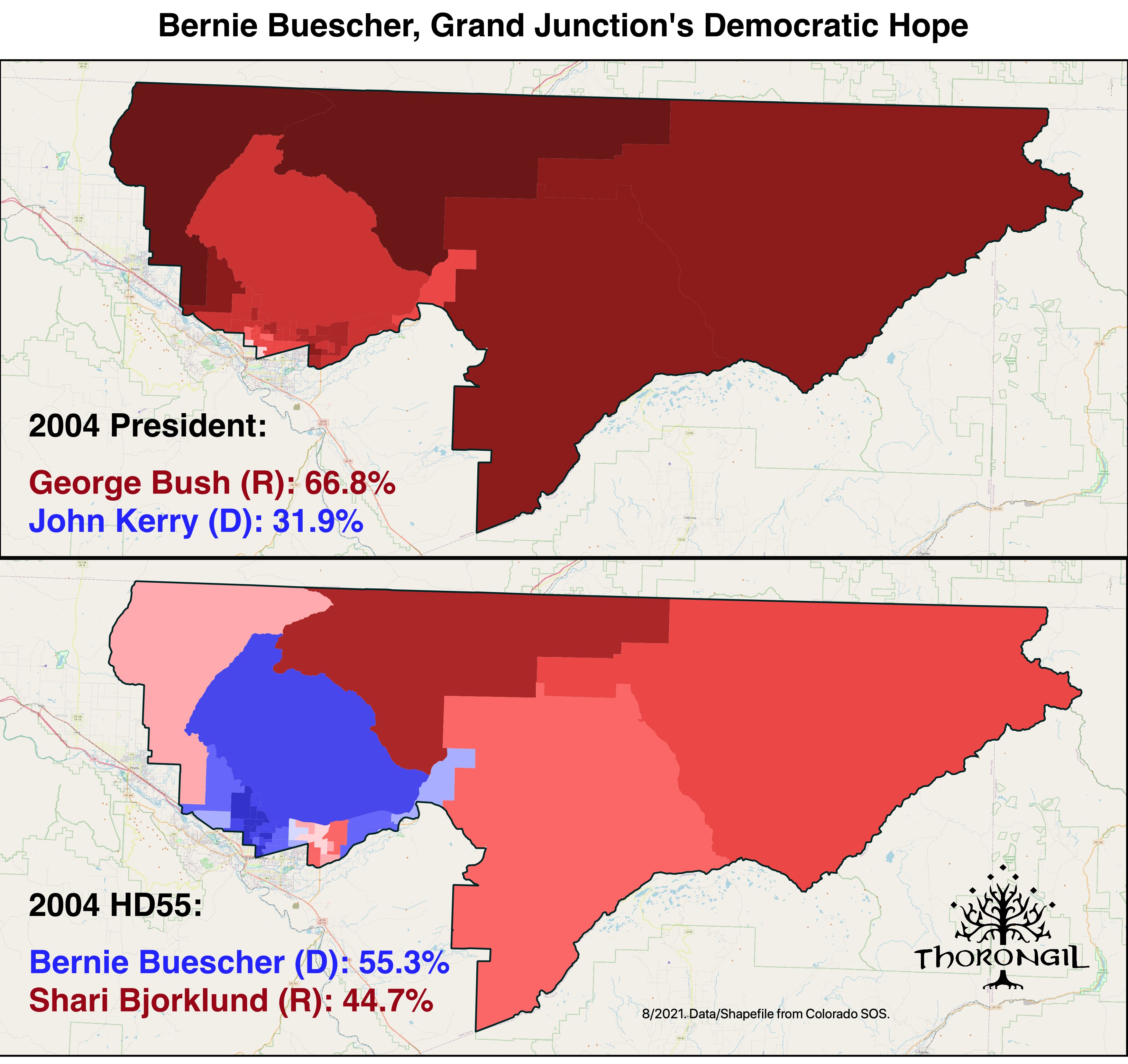 Of course, this is not to say that Coram will defeat Boebert. It merely notes that these events have happened before and there is a viable path for it to occur, particularly since Boebert has become an archvillainess for Democrats and an embarrassment for more moderate Republicans.
One other factor to consider is the fact that Colorado's primary elections allow unaffiliated independent voters to cast ballots in either party's primary if they so choose. As the independent bloc tends to have a higher partisan variance (more Democrats that are registered as unaffiliated), they can serve as a moderating influence on the GOP primary electorate. If Coram is smart – he will try to increase the independent share of the electorate as much as he possibly can. He might even try to reach out to moderate Democrats as well. The more high-key the Democratic primary is, the tougher Coram's path becomes. It is a very fine line that he will have to thread to be successful.
In short, this primary is going to be a microcosm of the battle for the GOP going forward. There are a lot of interesting factors under the hood – but Boebert's status as an incumbent popular with the majority of her party's primary voters, plus a fractured opposition, make her the heavy favorite at present to win. We rate this primary as Likely Boebert. Coram can win, but the burden is on him to prove the win and run down the victory path – the fundamentals are not easy.
I'm a political analyst here at Split Ticket, where I handle the coverage of our Senate races. I graduated from Yale in 2021 with a degree in Statistics and Data Science. I'm interested in finance, education, and electoral data – and make plenty of models and maps in my free time.